Frequently Asked Questions
What is the levy, and how is it different than a bond?

Through a levy, local communities help enrich basic education programs and activities not funded by the state that are necessary to provide students with a well-rounded education. The Feb. 9 replacement levy maintains essential services and positions to serve students, including nurses, counselors, reasonable class sizes, extracurricular activities and more.

A bond gives local communities the opportunity to fund new or modernized schools, facility, and security improvements. Bond monies cannot be used to operate schools and fund programs.

Levies require a simple majority for passage (50%+) while bonds require a super-majority for passage (60%+). This short video provides an overview of the Spokane Public Schools (SPS) 2021 Replacement Educational Program and Operational Levy.


When is this levy election taking place and how do I register to vote?
Election day is Feb. 9, 2021. Ballots will be mailed starting Jan. 10 – military and overseas ballots first – and the voting period begins Jan. 22.

Spokane County provides voter registration information, including online and printable forms, voter eligibility facts and more. Online and mail registrations, and voter updates, must be received by Feb. 1. Register to vote in person during business hours and any time before 8 p.m. on Election Day at the Spokane County Elections Office, 1033 W. Gardner Ave.


What does the 2021 Replacement Educational Program and Operations levy pay for?
The levy pays for essential services, including:

Nurses
Counselors
Behavior specialists
Student intervention programs
Special education services
Technology support
Smaller class sizes
Custodial and Maintenance staff
The levy also pays for a variety of programs and extra-curricular activities that give students the educational experience they deserve, including:

Highly capable programs for elementary and middle school
English Language Learners (ELL)
Elementary specialists
Librarians
Curriculum materials
Advancement Placement, Honors, and other course options
Athletics
Music, arts, and drama
Afterschool clubs

Why is Spokane Public Schools asking for levy money now, during a pandemic?
Washington school districts are limited to a maximum of four years for Educational Programs and Operations levies before they need to ask the community for renewal.
Spokane Public Schools is on a three-year levy cycle. The last levy election was in 2018 to help fund district programs and operations in 2019, 2020 and 2021, and it expires after this year. A new levy must be approved to continue funding those programs and operations in 2022, 2023 and 2024.

Without running a levy this February, SPS would need to significantly reduce the number of programs and educational opportunities available for students over the next three years of programs. For example, if the district did not follow the current levy cycle, there would be a $35.7 million budget shortfall next school year, a deficit that would increase each subsequent year. This would result in the elimination of over 350 positions and the inability to pay for materials and services that support student programs and activities.

Thanks to the levy passed in 2018, SPS was able to meet the demands placed upon school districts during this pandemic. When all students return to school, we all want to see them have a normal learning experience that includes smaller class sizes, intervention services, athletics, activities, art, music, and safety. Our students have missed out on many of these important school experiences during the pandemic. This replacement levy will help make sure that when they return to school after the pandemic, these experiences and opportunities will be there for them.

Can't the district use the money saved during the COVID school closures to fund these programs and services?
While SPS is saving some money due to this year's partial closure, the district also faces many new, pandemic-related costs in areas such as technology, intervention services, staffing to meet COVID-19 safety requirements, personal protection equipment, and health services.

While any savings during partial school closures may help the district a little in the immediate term, the levy will help support the district over the next three years. Any funds being saved now would in no way cover more than $36.6 million (2020-21) in funding that the local levy provides the district to operate our schools.

Remember that our schools have not been fully closed. Students in kindergarten through second grade have been attending in person since the fall, and many teachers of all grade levels have worked in their classes since the start of the school year. Low COVID-19 transmission rates in schools recently led the Governor, Washington Department of Health, and Spokane Regional Health Department (SRHD) to issue new guidance that will allow schools to bring more students back into classrooms. On Jan. 6, SPS announced a new plan to phase-in all students by this March, pending SRHD approval.

Teachers are also working harder than ever to make distance learning a successful experience for our students. Distance learning takes many more hours of effort to make personal connections and provide instruction when students are at home and not attending our schools. In many cases, our teachers are putting in longer hours – often on weekends – to keep up with the demand and time-intensive nature of supporting our students. Spokane Public Schools has received national recognition for our collective response to the pandemic.

Here are some examples of how staff are making a difference for our students:

Custodians create clean, safe places for learning
Band teacher shares why arts are vital, now and always
Simple mantra powers special ed teacher through challenging year
Garry Middle School teacher reaches students where they are

You say this is not a new tax, and that the total estimated tax rate for schools will be less than in 2018 and prior years. But it looks like property owners will see an increase over the years since. Please explain.
This levy is not a new tax. It replaces the expiring three-year levy passed by voters in February of 2018, and therefore will not be added to taxes you are currently paying. The amount to be collected and the corresponding rate are submitted to the voters every three years. Below are the historical tax rates and proposed tax rates.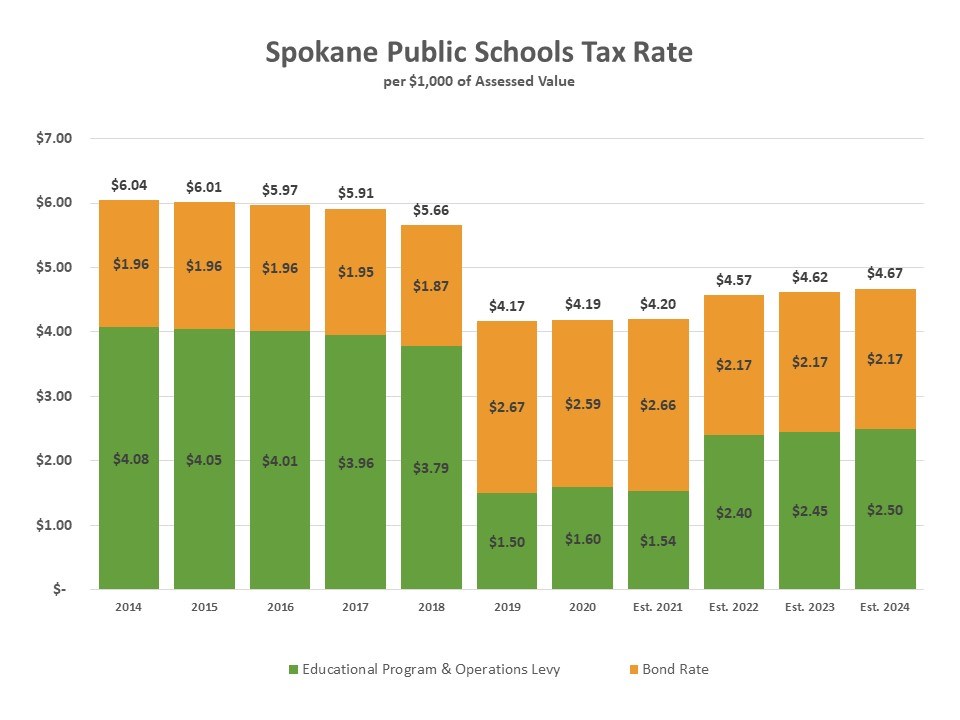 How much will my tax bill increase?
Below is a table of estimated amounts that the average homeowner has and will pay within SPS boundaries for the levy and existing school facility improvement bonds.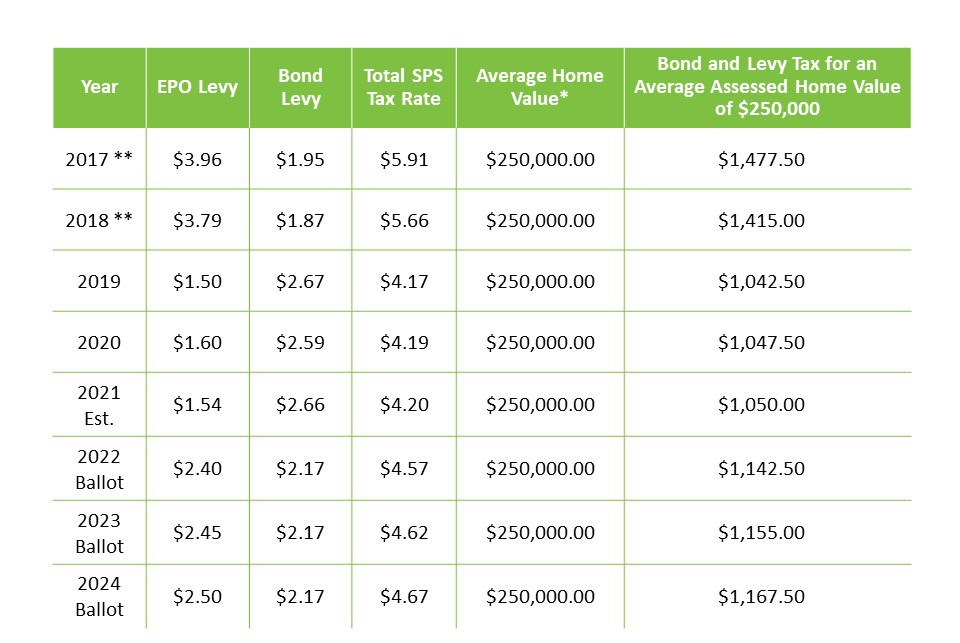 * Based on 2021 Assessed Value from Spokane County Assessor

** Before the Washington State EHB 2242 "McCleary Fix" Legislation

Exactly how would these increased levy dollars be spent?
Below you can see planned levy expenditures by fiscal year, including the Feb. 9 replacement levy for 2022, 2023 and 2024.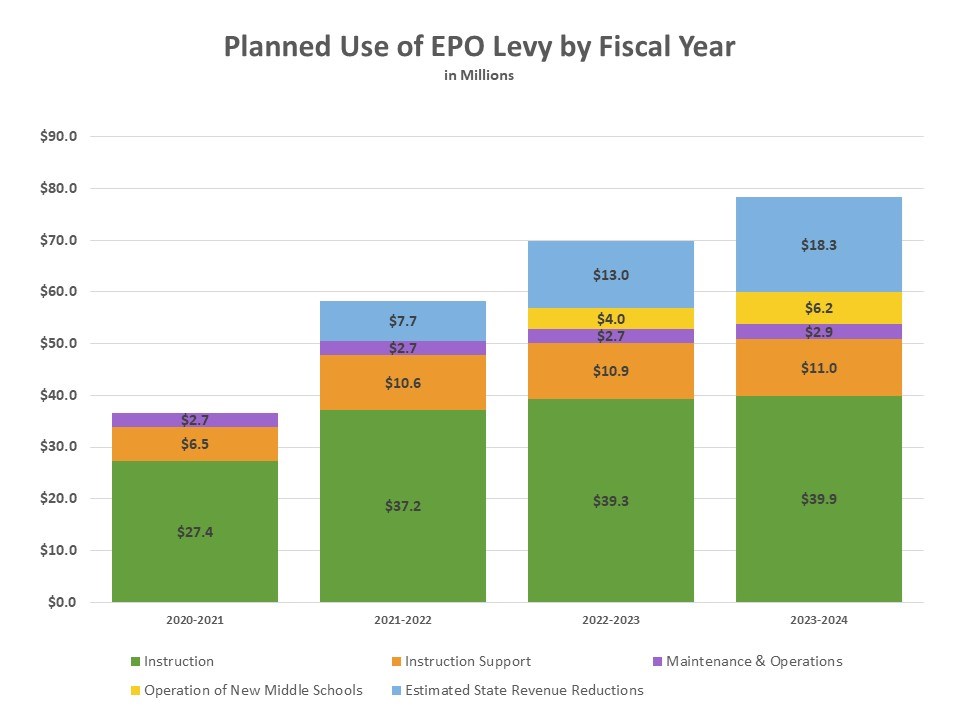 Instruction: Includes funding for teachers to reduce lower class sizes and offer expanded course options, as well as for special education, English Language Learners, highly capable offerings, extracurricular activities, librarians, counselors, school nurses, and school office support staff.

Instruction support: Includes instructional professional development, instructional technology, and curriculum.

Maintenance and operations: Includes custodial and maintenance staffing, as well as related supplies and materials.

Operation of new middle schools: Each school will need to be staffed with a principal, assistant principal, counselors, librarian, custodians, and school office staff. This will also fund building operating costs, such as utilities. The opening of three new middle schools will help alleviate overcrowding at elementary schools by moving sixth grade students into a 6-8 middle school configuration, like most districts in the nation.

Estimated State Revenue Reductions: State revenues are expected to decrease for regionalization funding and Local Effort Assistance (definitions below). SPS will lose the following:

2021-2022 - $7.7 million
2022-2023 - 14.6 million
2023-2024 - 19.9 million
Regionalization: A factor the state uses to calculate monthly allotment of funds and is being reduced over several years starting with the 2020-2021 school year.

Local Effort Assistance (LEA): Because of differences in property values, some districts can pass a levy with a levy tax rate of $1.28 and raise $3,000 per student while other districts can pass a levy rate of $2.50 and raise only $500 per student. To compensate for the difference in ability to raise money through local levies, the state supplements districts with higher-than-average levy tax rates by providing this additional funding. LEA is intended to ease the property tax burden of districts with low property values. It is not intended to make equitable resources available to districts.

You said the overall school tax rate will be less than 2018, but why is the levy rate going up? Does the district need more money?
At the beginning of 2018, the district was operating with a levy rate of $3.79. After a legislative decision later that year, the levy rate was restricted to $1.50. When the legislature realized this decision created enormous complexity and budget challenges for districts across the state, they revised the rate to $2.50. The change was an attempt to simplify and make things more equitable, but as with any major overhaul, adjustments needed to be made.

When the decision was made to reduce the levy rate, it meant Spokane Public Schools needed to reduce key programs and services such as librarians and custodians. In addition to adjusting the budget to a lower levy rate, the district will lose a total of $42.2 million in state revenue between fiscal years 2021-2024 due to reductions in regionalization and LEA (see previous question for more).

All that said, the new levy rates will enable restoration of items lost through budget reductions and facilitate the opening of three new middle schools (and inflationary operating costs) needed to accommodate lower class sizes at the elementary level. Even if the replacement levy passes, the district will be making further cost reductions to acclimate to the state's new funding model.

Would renewal of this levy bring back any of the programs SPS cut in 2019 due to the shifting state funding model?
With passage of the 2021 replacement levy, SPS would be able to restore some of the positions and programs cut after 2019, including custodians, librarians, and smaller class sizes. However, even with passage of the levy, the district would still need to make budget reductions to restore the emergency savings account, which had to be used this year due to an unpredicted decline in student enrollment due to the COVID-19 pandemic.

Passage of the 2021 replacement levy would also provide needed funding to support the operational costs associated with opening three new middle schools – one in the Northeast, one in the Northwest and one on the South side of Spokane. This will reduce overcrowding at elementary schools and move sixth grade students into a more appropriate 6-8 middle school grade configuration, like most districts in the state and country.

Why is there such a large gap between state funding for basic education and the actual cost of critical programs? Why can't the district just ask the state for more money?
In 2009 and 2010, the state legislature provided a new funding model that assigns how the state will support staff positions and basic education programs. The state funds certain portions, and school districts are responsible for funding additional staff through their local levies.

In 2017-18, the state legislature limited the amount school districts could request from local communities to support educational program levies to $1.50 per thousand of assessed property. In 2019, after many districts had to make significant budget reductions to adjust to the new rate, the legislature amended the law and raised the limitation to $2.50 per thousand.

School districts across Washington work with state legislators to request state funding for new requirements, programs, and activities on an ongoing basis. The state legislature receives requests from many other groups as well before considering the priorities and allocating available resources.

Why are there four school tax lines on my property tax bill?
SPS levies are listed as SD-081 Spokane General (Educational Program and Operational Levy) and SD081 Spokane B&I (Bond Levy). There are two taxes that are levied and collected by the state of Washington in support of education and allocated through the state budget process. These are listed as State School and State School Levy 2. Below is a chart that presents the total property tax rates for schools (SPS levied and state levied).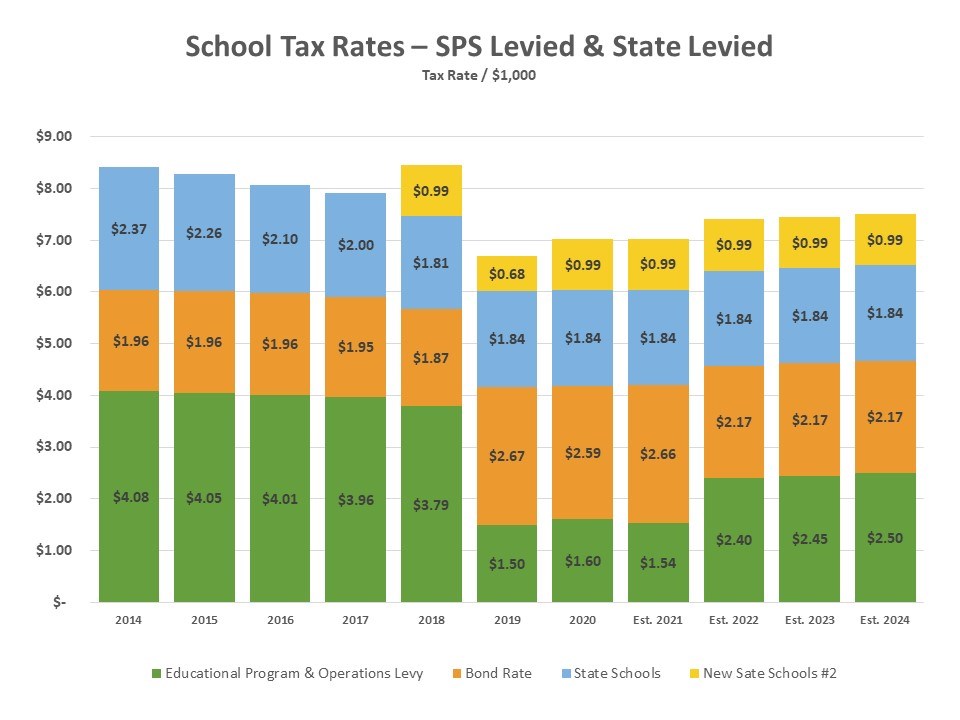 Why is the district asking for a levy after agreeing to staff raises several years ago?
Spokane Public Schools understands the importance of recruiting and retaining the very best employees to serve our students. To attract and retain the best, the district must provide competitive salaries. Several years ago, many SPS employee groups, including nutrition service staff and custodians, received raises based on the current market rate of compensation for their specific employee groups.

It is also important to note that SPS is one of the largest employers in Spokane County. The employment of SPS staff supports the local economy as staff consistently contribute to local businesses.

How much of the district's overall budget is spent on central administration?
As share information about the upcoming levy and prepare for the budget season, we often receive questions or comments about the amount of budget devoted to administration. Our district has consistently operated with a smaller central office staff than other districts of similar size. Below you will see the percentage of budget that is spent on central administration with comparisons to other districts.
Spokane - 4.4%
Evergreen - 5.3%
Vancouver - 5.3%
Federal Way - 5.7%
Tacoma - 5.7%
Seattle - 6.0%
Kent - 6.1%